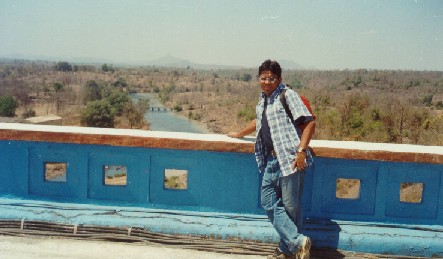 This is Rahul Parab presently pursuing his Masters program in Civil Engineering at The University of Toledo, Ohio.
I am a pretty straightforward and broad minded guy. This Maratha was gifted by God on 24th December 1978. I spent my childhood in Trimurti Apartments, Chunnabhatti and in the arms of my grand parents at Vile Parle. Went to King George School, Dadar for my primary education. Enjoyed a lot with my first school friends at that school.
Then, for my secondary education, I attend Sou. Laxmibai English Medium School. This school totally changed my life. I changed from a thumb sucking young baby to a grown up young teenager in this school. Perhaps I spent the 2nd best days of my life at this place.
This was the place where I made my best friends. Grew up in a Marathi community at this school. Though the school was an English Medium school, our mode of communication was always in Marathi. I spent 5 years in this school for the 5th Standard till S.S.C. I passed my S.S.C with a distinction( 87.85%) from this school.
Then, I went to my junior college at Sion. Called as S.I.E.S, it was a hangout place for all the teenagers. As a teenager , I spent all day bunking the classes and having fun with my group at this college. The best place for hangout was our Canteen where we daily had our staple food " The MISAL". I had nice time at this college with a very good friend of mine who was one year younger than me. I spent most of my time enjoying with her. I passed my H.S.C exam from this college with a distinction.
The next venue was my dream college" Sardar Patel College of Engineering". This was the college where all my relatives became engineers. I entered this college in the Civil Engineering branch thinking of changing to Mechanical Engineering after 1st year. However as my bad days were going around, instead of changing I got a year drop because of the KT's. However, I bounced back in the 2nd year and then I never looked back. I passed all my semester without any KT's. This college helped me to develop my personal as well as managerial skills. Working for SPACE was the best thing I have ever done. I can never forget those sleepless nights, when I use to work relentlessly to make SPACE a success. Also, I can never forget the day when me and my pals made the first stage show in S.E Civil. That was the first step in our cultural activities field. That show in Mock Fashion Show was an instant superhit in Technobreak and SPACE. We won lot of awards and laurels for that show. Bunking lecture was our daily chore and our favorite pass time was playing VOLLEYBALL. SPCE gave me 25 best pals who would do anything for each other. Finally in 2001 , I got my B.E degree in Civil Engineering. I passed with a First Class and thus became a legal CIVIL Engineer.
Finally, here I am in The University of Toledo. I plan to do research in the field of Geographic Information Systems Applications in Water Management. I am waiting for my destiny. I hope I have a good future in front of me.
TIME IS THE BEST HEALER.
Thanks!!!!